Bid on Inventory Destined to Sell
Using real-time data about recent inventory and sales from your competitors, VinCue™ helps you create a buying plan focused on inventory you know will sell.
Learn More
Data-driven
buying strategies
Premium third-party listings are more expensive and less effective every day, even allowing competitors to advertise directly on your vehicle pages. Marketing agencies charge huge fees to manage digital advertising campaigns but still struggle to show ROI.
That's why we developed AdCue™, built by dealers for dealers, to reduce reliance on third-party marketplaces and agencies. AdCue automatically creates and delivers beautiful digital ads to customers that are ready-to-buy, giving you higher returns on each dollar spent and driving more traffic to your website.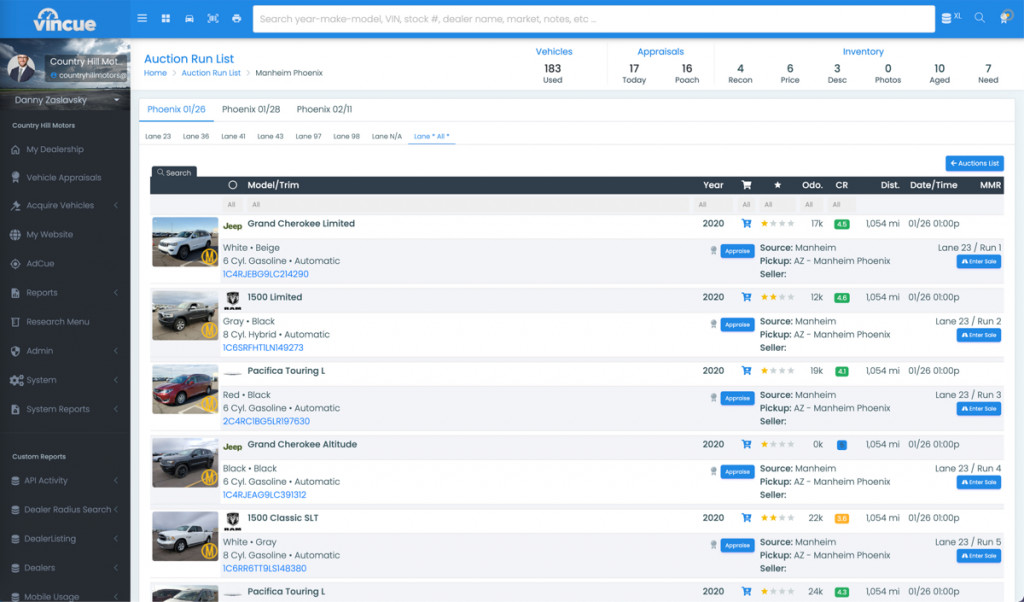 Built by dealers, for dealers, VinCue™ Auction Sourcing gives you access to real-time data for current inventory and pricing, and recent sales in your market, to execute a better buying plan while connected directly to Manheim, OVE, ADESA, and independent auctions.
Compete on Value over Price
Capture and show more information about conditioning, certification, and dealer exclusive benefits.​
Reduce Days to Market
Reduce Days to Market with better visibility and tracking from acquisition to point of sale.​
Identify Bottlenecks
Use real-time data to identify issues and bottlenecks and make smarter decisions for your dealership. ​
Original Factory Sticker
Reference Original Factory Window Stickers to verify options and features on 3m+ vehicles.
Auction Sourcing with AdCue™
VinCue™ Auction Sourcing is even more powerful when combined with AdCue™, our powerful digital advertising platform that automates ad creation, targeting, and placement. 
Tips, Tricks, & Best Practices for Running a Modern Dealership
Tune into Contagious Auto's weekly Pitch Tank on Clubhouse to hear Danny zaslavsky present vincue vbc™ VinCue Managing Partner will present the Vehicle Buying Center (VBC™) at Contagious Auto's weekly Pitch Tank, hosted on Clubhouse, on Wednesday, May 5th at 10:00am EST. RSVP ON ClubHouse May 5th 10am EST Pitch Tank is presented by Contagious
Read More »
We get it, change is hard. But change can be worth it, especially when you think about getting rid of multiple logins, systems, and sources of information. Let us give you a free live demonstration of VinCue and show you what the world looks like with a single unified system to source, price, and advertise.
Earn more on each vehicle
Stock the right vehicles at the right price
Improve your third-party listings
Optimize your inventory from a single dashboard
Win more trade-ins
Don't leave your success up to chance. VinCue drives results for dealers. Period. See for yourself,  schedule a live demo today.
Hundreds of Dealers have switched to VinCue in 2020 because we offer tools and solutions that meet the challenges of today's markets. Selling cars isn't magic and it's never been less of an art. Today's market is powered by data and your customers know it. To meet them where they are you need smarter tools and smarter systems. We all know where the market is heading, let us help you get there first.
ONE SYSTEM, ONE LOGIN.
FOR EVERYTHING.
Don't you want to know why?
Hundreds of Dealers Joined VinCue in 2020.
The car market has changed forever. Buyers are smarter, competitors are better-funded, and online sites are turning dealerships into commodities. But it doesn't have to be that way. The best dealers are adapting to this new world — and succeeding.
We know data, and we know you. We know where the game is going and we want to get you there first. VinCue puts dealers in position to close better deals, stay a step ahead of your competition, and stop racing to the bottom on price and value.
No matter your size or challenges, VinCue has the data to help you take decisive actions and earn higher gross per vehicle, right now. 
Country Hill Motors
"AdCue has given us a huge amount of reach in our market for a fraction of what it would cost through other channels. That boosted our web traffic immediately and we were able to send better leads to our sales team."

Danny Zaslavsky, Director of Operations
Case Study
Matt Ford of Kansas City
"Vincue delivers the information and insights I need to fully understand what's happening in my market. Knowing what my competitors are buying and selling uncovers opportunities I might otherwise miss. Vincue is always improving and innovating and they are consistently responsive to my needs as a customer."

Ryan Matt, Owner, Dealer Principal
Case Study
Bob Ruth Ford
"The Vehicle Buying Center has been very effective at capturing private sellers and our move toward better digital retailing. Vincue is the future. The product just keeps growing and evolving with us."

Bob Ruth, Owner
Case Study
CTS Auto Sales of Aurora, CO
"You have seconds, maybe a minute to evaluate a vehicle. Being able to pull up one screen, I can see everything I need right there on the spot. [VinCue] is very easy to use. I don't have to jump around between different tools to find what I need. We're saving somewhere between 30-50% per month [compared to other tools]."

Kyle Glenn, General Manager
Case Study