Better Decisions based on Real-Time Data
Thanks to better data, VinCue empowers you to stock the right inventory, avoid bad deals, increase front-end profits, and sell more cars. The best dealerships don't cut price, they optimize their inventory.
Learn More
Inventory Management
Redefined
Buyers are smarter, competitors are better-funded, and online sites are turning dealerships into commodities. But it doesn't have to be that way, and the best dealers are adapting to this new world, and succeeding, by following the data available to them. 
VinCue Inventory Management is so much more than a database. It captures, utilizes, and visualizes data in innovative ways to help you buy, price, and sell smarter. Identify your most profitable vehicles to restock faster, capture more data about inventory to sell on value instead of price, and find gaps in the market to fill before your competition.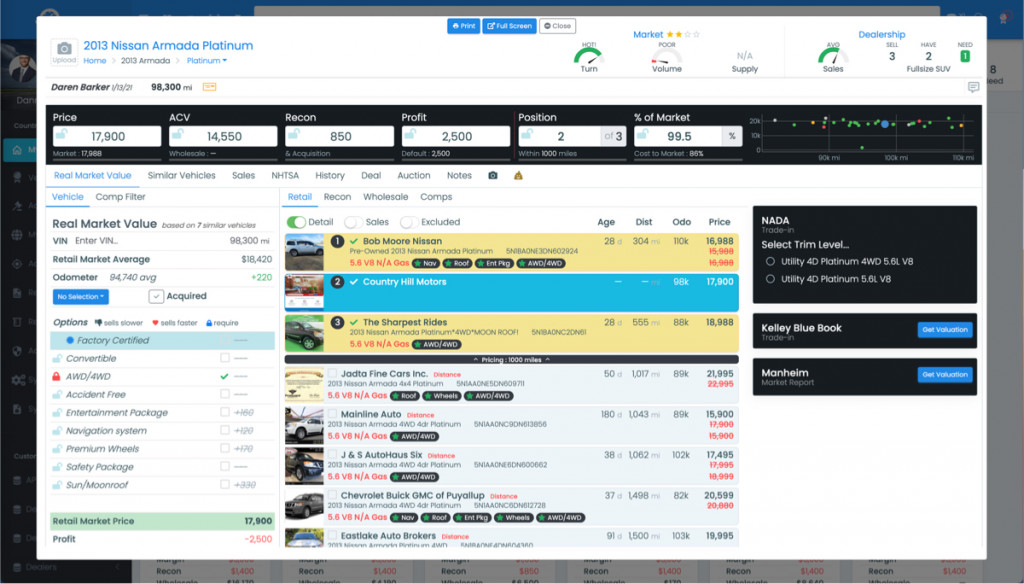 Built by dealers, for dealers, VinCue™ Inventory Management works the way you work by capturing and displaying more data about your inventory, faster, to decrease days to market and sell on value. 
Compete on Value over Price
Capture and show more information about conditioning, certification, and dealer exclusive benefits.​
Reduce Days to Market
Reduce Days to Market with better visibility and tracking from acquisition to point of sale.​
Identify Bottlenecks
Use real-time data to identify issues and bottlenecks and make smarter decisions for your dealership. ​
Original Factory Sticker
Reference Original Factory Window Stickers to verify options and features on 3m+ vehicles.
Inventory Management with AdCue™
VinCue™ Inventory Management is even more powerful when combined with AdCue™, our powerful digital advertising platform that automates ad creation, targeting, and placement. 
Tips, Tricks, & Best Practices for Running a Modern Dealership
Thinking about investing in traditional marketing channels? Think again. Traditional channels like TV and radio are continuing to price themselves out of dealers' reach. The same goes for third-party listing sites that charge a fortune without delivering real leads. Fortunately, it's never been easier for dealers to run their own digital advertising. Digital advertising isn't just
Read More »
VinCue™ Inventory Management
We get it, change is hard. But change can be worth it, especially when you think about getting rid of multiple logins, systems, and sources of information. Let us give you a free live demonstration of VinCue and show you what the world looks like with a single unified system to source, price, and advertise.
Earn more on each vehicle
Stock the right vehicles at the right price
Improve your third-party listings
Optimize your inventory from a single dashboard
Win more trade-ins
Don't leave your success up to chance. VinCue drives results for dealers. Period. See for yourself,  schedule a live demo today.
Hundreds of Dealers have switched to VinCue in 2020 because we offer tools and solutions that meet the challenges of today's markets. Selling cars isn't magic and it's never been less of an art. Today's market is powered by data and your customers know it. To meet them where they are you need smarter tools and smarter systems. We all know where the market is heading, let us help you get there first.
ONE SYSTEM, ONE LOGIN.
FOR EVERYTHING.
Don't you want to know why?
Hundreds of Dealers Joined VinCue in 2020.
The car market has changed forever. Buyers are smarter, competitors are better-funded, and online sites are turning dealerships into commodities. But it doesn't have to be that way. The best dealers are adapting to this new world — and succeeding.
We know data, and we know you. We know where the game is going and we want to get you there first. VinCue puts dealers in position to close better deals, stay a step ahead of your competition, and stop racing to the bottom on price and value.
No matter your size or challenges, VinCue has the data to help you take decisive actions and earn higher gross per vehicle, right now.